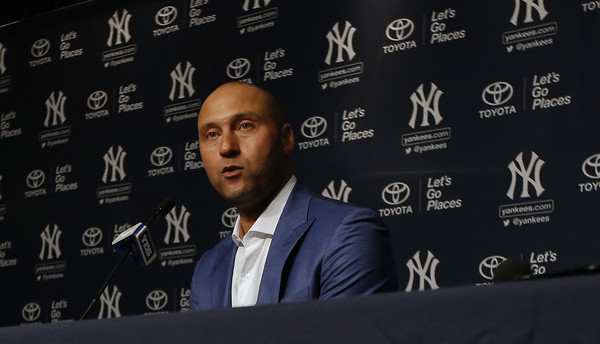 (Rich Schultz/Getty)
The Yankees and Red Sox continue their three-game weekend series with the middle game later today. It's a 4pm ET start. Here are some links and notes to check out until game time.
Jeter agrees to purchase the Marlins (again)
A few weeks after his agreement to purchase the Marlins with Jeb Bush fell through, Derek Jeter has another deal in place to buy the team, reports Barry Jackson. Jeter teamed up with rich dude Bruce Sherman and several other minority investors (including Michael Jordan) to buy the team. The sale price is $1.2 billion â?? that's the second most ever paid for an MLB franchise, behind the $2 billion the Dodgers sold for a few years back â?? and Jeter is kicking in $25M.
Jackson says Sherman will be the "control person" while Jeter will run the business and baseball sides of the organization, so he's going to have a lot of responsibility. The sale is not yet final â?? two other potential Marlins sales have already fallen through this year, so this isn't a formality â?? but Jeter and Sherman do have all the money in place and everything else is order. Now MLB needs to give their approval and the other 29 owners have to vote. That's going to happen at the quarterly owners meetings in October, apparently.
2017 postseason schedule announced
It's getting to be that time of year. …
Read Original Post at
http://riveraveblues.com/2017/08/saturday-links-jeter-postseason-schedule-players-weekend-158962/

Sports Media 101 searches and spiders for news it aggregates from across the web about your favorite sport or sports team. This article is originally posted at another site not affiliated with Sports Media 101. The portion of the article posted here is to provide a sample of the content available at the linked site. Please click the link to read the full article. Sports Media 101 does not claim any ownership to the content and all rights are retained by the original copyright owner.
Tags:
Curtis Granderson
,
Derek Jeter
,
Miami Marlins
,
News
,
Other Teams
,
Players Weekend
,
Playoffs
,
Trade Deadline