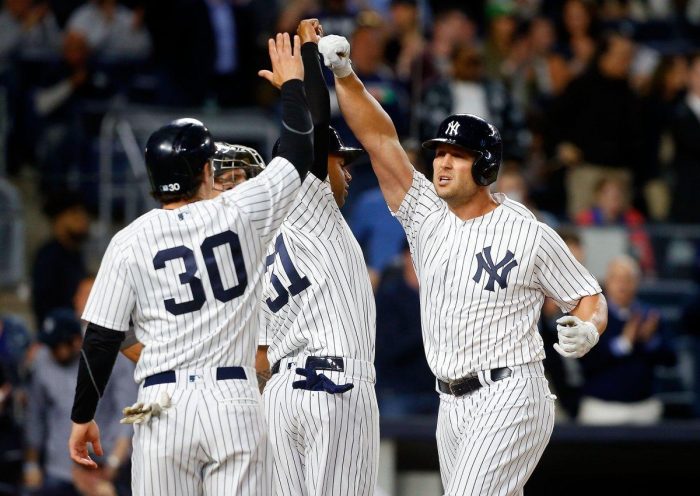 (Getty)
The Judge and The Mick
The White Sox were the latest team to try and slow down the Yankees juggernaut, a feat that seemed improbable based on their recent struggles at the House That Jeter Built.
The White Sox entered this series with a 7-20 record at the new Yankee Stadium, the second-worst win percentage (.259) by any American League team (only the Angels, 8-24, were worse). The Yankees made sure they didn't improve that mark on Monday with a 7-4 win in the series opener.
Matt Holliday broke the game open with a monster three-run, 459-foot home run in the third inning. It was the fourth-longest homer by any Yankee in the Statcast era (since 2015), behind three homers by A-Rod in 2015. With an exit velocity of 113.9 mph, it was also the third-hardest hit homer in that span behind an A-Bomb in 2015 (116.5) and an Aaron Judge blast last year (115.2).
Judge joined the powerball party in the fifth inning, extending the lead to 7-0 with his fourth home run of the season. He's just the second Yankee outfielder under the age of 25 to hit four homers within the team's first 13 games. The other? Oh, just some guy named Mickey Mantle in 1956.
Jordan Montgomery picked up his first major-league win, showing the same toughness and poise he displayed last week during his debut, pitching out of jams in the first and sixth innings. Overall this season, he's allowed just one hit in 10 at-bats (.100) and struck out four batters with runners in scoring position.
Adam Warren relieved Montgomery, and kept his Hidden Perfect Game intact until he walked Tyler Saladino with two outs, snapping …
Read Original Post at
http://riveraveblues.com/2017/04/yankeemetrics-whiteout-in-the-bronx-april-17-19-152580/

Sports Media 101 searches and spiders for news it aggregates from across the web about your favorite sport or sports team. This article is originally posted at another site not affiliated with Sports Media 101. The portion of the article posted here is to provide a sample of the content available at the linked site. Please click the link to read the full article. Sports Media 101 does not claim any ownership to the content and all rights are retained by the original copyright owner.
Tags:
Aaron Judge
,
Adam Warren
,
Chicago White Sox
,
Jordan Montgomery
,
Luis Severino
,
Masahiro Tanaka
,
Matt Holliday
,
Players
,
Yankeemetrics