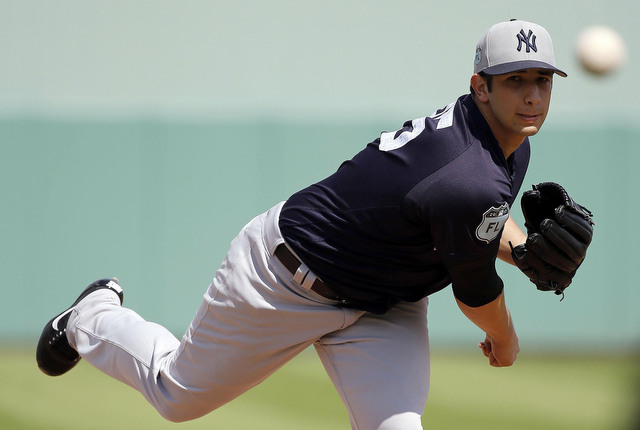 Cessa. (Presswire)
Anyone with doubts about the Yankees and their commitment to the youth movement need not look beyond the rotation. Rather than bring in outside help over the winter, even a innings eating veteran on a one-year contract, the Yankees are planning to go with their young starting pitchers in 2017. They're taking a leap of faith.
Four young starters are vying for two rotation spots this spring: Luis Cessa, Chad Green, Bryan Mitchell, and Luis Severino. We still don't know which way the team is leaning â?? "I would say (no one is ahead). I think we're going to have some long meetings about this," said Joe Girardi over the weekend â?? though I get the feeling Severino came into Spring Training as a favorite for one spot.
Regardless of who gets the two rotation spots on Opening Day, history suggests the Yankees will need all four of these guys to make starts at some point. The Yankees haven't used fewer than eight starters in a season since the strike-shortened 1994 season, when they used seven. They've averaged slightly more than ten starters per season the last three years. So yeah, the depth is good. Let's preview these four young arms.
What does he have the others don't? A fourth pitch and a ton of athleticism. Cessa, 25 in April, is a former shortstop and his athleticism is evident in his easy, repeatable delivery. More importantly, Cessa throws four distinct pitches. We saw all of them last season during his big league debut. Setting aside his eight relief outings last season, here are the numbers from Cessa's nine starts (MLB averages in parentheses):
| | % Thrown | Avg Velo | Whiff% | GB% |
| --- | --- | --- | --- | --- |
| Fastball | 48.6% | 95.0 (92.1) | 5.7% (6.9%) | 35.0% (37.9%) |
| Slider | 30.3% | 85.4 (84.3) | 21.8% (15.2%) | 66.0% (43.9%) |
| Curveball | 11.1% | 80.2 (77.1) | 4.8% (11.1%) | 50.0% (48.7%) |
| Changeup | 9.9% | 85.0 (93.7) | 13.3% (14.9%) | 40.0% (47.8%) |
The slider was Cessa's go-to secondary pitch, but he also threw his curveball and changeup roughly 10% of the time each, so the four-pitch mix is there. As a result, his platoon split was relatively small: lefty batters had a .324 wOBA against him while righties had a .311 wOBA. None of the other rotation candidates threw four pitches as often as Cessa, and I don't think any of them are as consistently in sync with their delivery as well.
Also, in the age of pitch counts, I should note Cessa was incredibly pitch efficient last year. He averaged only 14.7 pitches per inning and 3.69 pitches per plate appearance as a starter in 2016. The MLB averages are 16.8 and 3.95, respectively. Cessa managed to complete at least five innings in all nine of his starts while throwing 85+ pitches only three times.
What's holding him back? A lack of strikeouts and #toomanyhomers, more than anything. Even with a slider that rated as well-above-average in swing-and-miss rate and ground ball rate, Cessa had a mere 17.1% strikeout rate and a 45.0% ground ball rate in his 51.2 innings as a starter last year. Hitters tagged him for a 1.92 HR/9 (19.3 HR/FB%) and that's way too high. Can't do that and stay in the rotation.
Cessa has long had a reputation for being a strike-thrower and we saw it last season. He had a 3.9% walk rate in his nine starts. I wonder whether he's someone who could benefit from throwing a few more pitches out of the zone, especially in two-strike counts. Not everything needs to be over the plate, you know. That could lead to more strikeouts and fewer homers allowed. Just an idea. But yeah, too few strikeouts and too many homers. Those are the two things Cessa will look to improve this summer.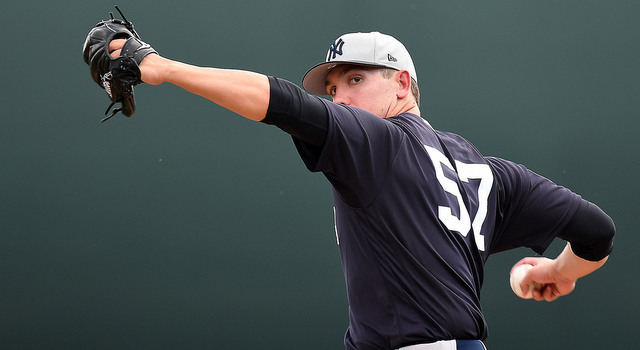 Green. (Presswire)
What does he have the others don't? Good question! I'm not sure, exactly. Possibly an overpowering fastball? Green, …
Read Original Post at
http://riveraveblues.com/2017/03/the-four-young-rotation-candidates-2017-season-preview-150906/

Sports Media 101 searches and spiders for news it aggregates from across the web about your favorite sport or sports team. This article is originally posted at another site not affiliated with Sports Media 101. The portion of the article posted here is to provide a sample of the content available at the linked site. Please click the link to read the full article. Sports Media 101 does not claim any ownership to the content and all rights are retained by the original copyright owner.
Tags:
2017 Season Preview
,
Bryan Mitchell
,
Chad Green
,
Luis Cessa
,
Luis Severino
,
Players