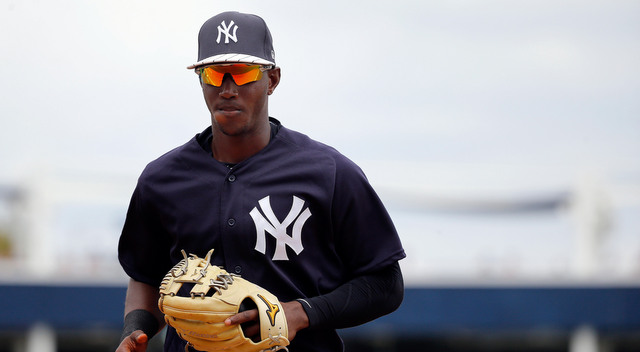 (Presswire)
Jorge Mateo, the No. 7 prospect in the farm system, will begin playing center field a few days a week this coming season, farm system head Gary Denbo told Brendan Kuty. He'll also see time at shortstop, his natural position, as well as second base, another position he's played in the past. Center field is brand new though.
Denbo also confirmed Mateo will begin the regular season back at High-A Tampa, which doesn't surprise me. He hit .254/.306/.379 (99 wRC+) there last season, including .210/.255/.283 (56 wRC+) from June 1st through the end of the season. Yuck. The Yankees have held guys back for less. Here's more from Denbo, via Kuty:
"We feel like he still has adjustments to make offensively that we would like for him to start in the Florida State League this year and get off to a good start and see what happens, whether he's able to make it to the next level …
Read Original Post at
http://riveraveblues.com/2017/03/denbo-confirms-jorge-mateo-will-begin-playing-center-field-this-season-150937/

Sports Media 101 searches and spiders for news it aggregates from across the web about your favorite sport or sports team. This article is originally posted at another site not affiliated with Sports Media 101. The portion of the article posted here is to provide a sample of the content available at the linked site. Please click the link to read the full article. Sports Media 101 does not claim any ownership to the content and all rights are retained by the original copyright owner.
Tags:
Jorge Mateo
,
Minors